From the Oasis Hub, this blog looks at how, globally, climate change is likely to increase urban flood risk in the future. Understanding this risk through high quality data is the first line of defence against these floods, see how Oasis Hub can help you to better understand the risk in your city.
Scientists at Columbia University's Earth Institute estimate that, worldwide, the number of people living within 100km (60 miles) of a coast will rise 35 percent by the year 2025 compared to 1995 levels. SwissRe, in its report "Mind the risk A global ranking of cities under threat from natural disasters," stated the following: "Since most major cities developed along the sea or waterways, flood risk threatens more people than any other natural catastrophe. Across the 616 cities assessed, river flooding poses a threat to over 379 million residents."
By 2050 it is expected that 75% of the world's population will be urban.
Urbanisation on this scale creates a range of challenges. Established cities face the issue of ageing infrastructure, unplanned development in rapidly growing economies, the reshaping of geophysical features, disturbance of sensitive ecosystems, air and water pollution and influence of local and regional weather systems are just a few of a catalogue of impacts urbanisation can create.
Climate impacts, compounding the problem.
The burden of scientific proof, the four climate change pathways (describing four possible climate futures depending on how much greenhouse gases are emitted in years to come) from the Intergovernmental Panel on Climate Change (IPCC), all indicate a warming climate. The predictions are for more frequent and severe extreme weather events.
Indeed, evidence to back up the predictions already exists, with six category 3+ (major) hurricanes occurring in the 2017 US hurricane season, with Irma being the strongest. The estimated number of fatalities ranges around 400 to over 1400, and economic losses at almost USD$300 billion from these events.
Over one hundred major floods have affected Europe over the last five years. Since the start of the Millennium European floods has caused at least 700 deaths, the displacement of about half a million people and at least EUR 25 billion in insured losses. Dresden, Germany was flooded in June 2013, when the River Elbe peaked at nearly 7 metres above its normal level. The River Danube also flooded at this time, the combination resulting in 52,500 people being affected by evacuations. The UK city of Carlisle was seriously flooded in December 2015, resulting in major road and rail links being cut, several thousand homes inundated with floodwater, and many schools, hospitals and businesses forced to close.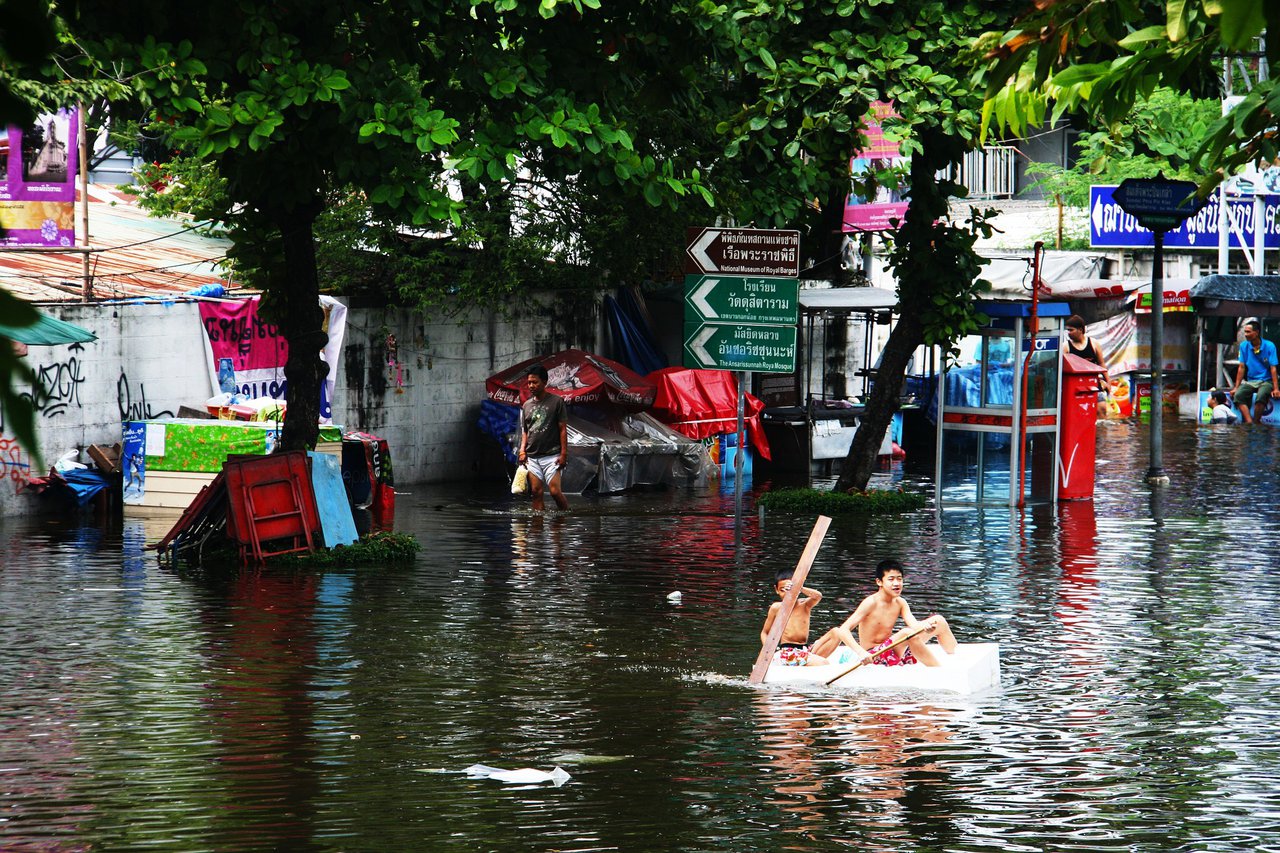 Children paddling through Bangkok Floods
Asia as a region suffers terrible flood events each year. In April 2017, unexpected heavy rain seriously flooded Ho Chi Minh City, including Tan Son Nhat International Airport, halting trains in the Thu Duc District. In low lying areas, the flood level was as high as one metre. Bangkok suffered major flooding in 2011 and with 2018 being a La Nina year means the region may receive more rain than normal. Major storms are also a great concern, with the area braced for severe conditions.In May 2018 Manila saw torrential rain bringing the city to a standstill, with water chest deep. Tropical storm Trami exacerbated the problem, with 30mm (just over one inch) of rain falling every hour.Lahore has experienced annual flooding events, and in 2014, it required the Pakistan Army to help move an estimated 6,500 people stranded by flooding in Lahore, where over half of Pakistan's 180 million population live.
Data as the first line of defence
Having accurate data, incorporating the latest enhancements, such as digital elevation models (DEM), helps a range of actors including; officials, adaptation planners, engineers, emergency services and disaster response teams to understand potential impacts and plan accordingly.Working with a consistent underlying data framework, showing the risk of flood events, allows diverse teams to collaborate on mitigation, adaptation, and response planning in a coordinated manner. Teams can then make the best use of often scarce resources, such as finance, people and technology by targeting action to make cities more resilient.Over the coming months, Oasis HUB, in partnership with Fathom will be providing a range of high quality, city datasets available, across the world, If you don't see your city within our sample cities and would like the data don't be afraid to contact us, as we will be able to supply you with your cities modelled flood data.The datasets are available in standard and extended form. For the technically advanced among you, the data includes: fluvial and pluvial flood perils, defended and undefended, and 10 return periods. Horizontal resolution is ~90m and the vertical accuracy of the DEM has been greatly improved for each city.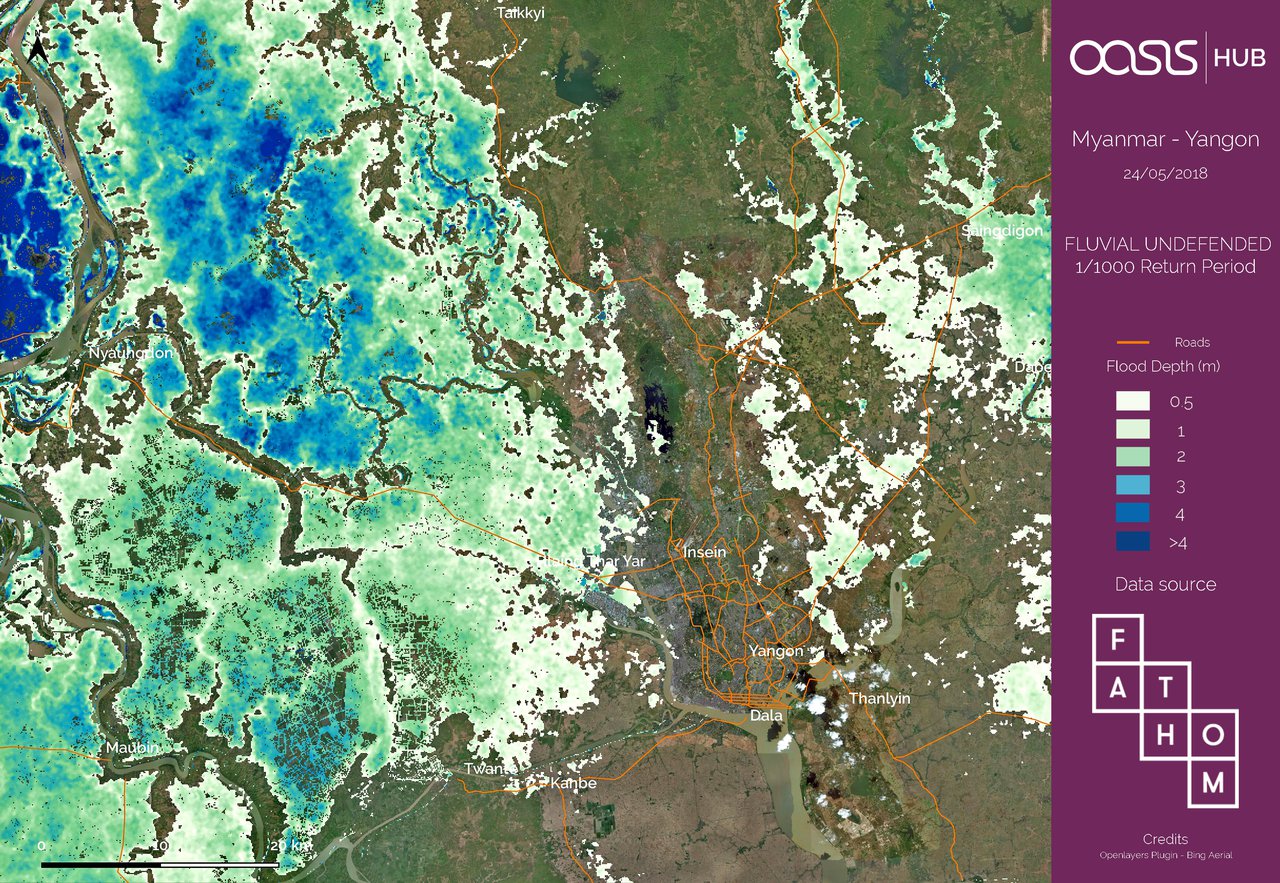 A sample of the data. Yangon Flood Map 1000 year return period
The standard form can be purchased with:Three layers for return periods of 20, 50 and 100 years.and Extended data contains an additional seven layers for return periods of 5, 10, 20, 50, 75, 100, 200, 250, 500, 1000 years.It is important to understand this is modelled data using historical events.
Get the data, join us for a FREE webinar
You can access the data here. If you want to learn more about the datasets and talk to representatives from Fathom Global and Oasis HUB, join us for our FREE webinar to learn more about the data and practical applications. Post questions to your webinar hosts as part of the registration process.
The webinar takes place on Tuesday 5th June at 08:00 BST / 13:00 PKT / 13:30 IST / 14:30 MMT / 15:00 ICT / 16:00 MYTClick here to reserve your place.
---